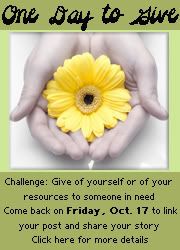 I have been looking at this for a while now. I was really not sure how I wanted to take part. This is right up my alley, but what to do...
We recently bought our plane tickets for the holidays so money has been a little tight, but it is because we've put family first and we are okay with that. (And we just bought plane tickets to Houston and Ireland. One cannot cry poverty while in possession of plane tickets to Houston and Ireland!)
With that being said, I was not sure how to take part in this challenge. We volunteer a bit already. We make our usual donations. Nothing seemed special enough.
Then I realized that I have spent a fair bit of time this week working on the Penny Harvest.
Service Learning is something that is important to me. I have seen a multitude of school service projects that help the
less fortunate
, but they have no connection to the students taking part. Students often participate because they are bribed. (The class that raises the most will win a pizza party, etc.)
Service learning makes a difference. The service and the learning are equally valued. The projects are more meaningful.
I love the Penny Harvest concept. A friend and I went to a session about PH at the state service learning conference last year. After some research we convinced our principal to let us sign up.
We are recruiting student leaders who will help us with the "gather pennies" stage. I presented the idea at the faculty meeting today and it was well received.
So even though the economy may not be the best, I am working to make every penny count. One kid at a time!